Our Story
We've been researching and educating on integrated health for decades, and increasingly shocked by the difficulty of getting supplements which actually contain the ingredients they claim.
In particular, we wanted to find a high quality formula containing YTE® - the only natural complete source of all 23 amino acids along with Fibroblast Growth Factor, vitamins, and minerals.
We knew the one company which everyone thought used the ingredient didn't. Not. At. All.
This rare ingredient, discovered by famous Canadian Doctor Dr John Davidson, researched by governments, universities, and medical specialists, has helped 500,000 people - which means most people have never heard of it.
And it was becoming increasingly difficult, if not impossible, to find formulas worth taking.
It's vital to have the real YTE® ingredients at the right dose - backed by traceability, trackability, independent testing, certification - because otherwise you won't get the results you need.
• Results like having a cortisol manager, so your "stress hormone" is under control, and you can go from anxiety to assurance and action.
• Results like more muscle strength and gain - because after age 30 you lose muscle, and from age 35 onwards you will lose between .5% and 1% of your muscle mass every year.
• Results like better sleep, more balance, more energy, more love in your life - which is why our company is called Get Your Boom! Back. 
Why haven't more people heard of YTE®? Because it's a very expensive raw natural ingredient and doesn't fit in the profit margins of the big corporations.
As a privately owned business, however, we don't need these huge profit margins.
So in 2014, we founded Get Your Boom! Back, committed to Regenerative Formulas With Genuine Ingredients At The Right Dose - And Always Honest Pricing.
We started with one formula - AminoBoosters.
We now provide four different YTE® formulas, because different people need different formulas at different times.
Yes, YTE® is that important.
The only natural complete stem cell regeneration ingredient. Supported by our proprietary botanical formulas. So you Get Your Boom! Back.
Too many supplements are using inappropriate ingredients, flawed science and spending more on marketing than ingredients.
With our proven, genuine ingredients and science-based evidence, you have the genuine ingredients at the right dose.
You deserve supplements whose effectiveness can be clearly demonstrated.
Every active ingredient we use is natural, research-backed and included at the right dose used in clinical studies.
We'll say it again: we're here to help you whenever you need it. 
With LiveChat, Customer Phone Lines and Helpdesk Support, we couldn't survive without the brilliant help of our Helpdesk Happiness Agents. so get in touch whenever you have a question
.
The Supplement Advisory Panel
Our Independent Supplement Advisory Panel features Medical Advisors whose experience is invaluable in our quest for the most effective supplements ever created. Each of our Advisors is dedicated to making real health a tangible reality. Having these medical specialists and health professionals on our team enables us to develop better formulas, create increased results for you, our customers, and source premium supplements at the very best prices which we pass on as part of our "Always Honest Pricing" policy. 
Dr Chris Hertzog
Dr Christopher Hertzog is a respected Longevity Specialist and medical researcher in the field of Anti-Aging (Positive Aging) Medicine.
Dr Chris has a Primary Medical Degree from Cambridge University, studied Law at the "Inns of Court" in London, and was a lecturer in Law prior to his long and continuing career as a medical researcher.
Specialties: new advances in AAM - Anti-Aging Medicine,- as well as in the field of cancer and terminal cancer research. 
Dr Chris is a member of the British Longevity Society, specialising in anti-aging and anti-cancer treatments.
Dr Chris "walks the talk", seeming far younger than his 80 years, still travelling the world on a regular basis, attending the most important conferences globally on cancer and healthy aging, and still with his "wings" as a keen pilot.
 Get Your Boom! Back is honoured to be working with Dr Christopher Hertzog, a highly respected pioneer in human longevity and healthy ageing.
Dr Veerle Van Tricht
Dr V is an Eye Surgeon who provides excellent and timely eye care to a large number of patients with AMD, Diabeticretinopathy, cataracts, glaucoma and general ophthalmology, plus supporting and teaching medical students, registrars and allied health staff.
During her successful medical career as an Eye Surgeon on three continents, Dr V has used her experiences, studies and personal experience to create the Burnout Resuscitation program, helping health and other professionals avoid the devastating, destructive, and serious health consequences of burnout including l lower immune system, heart disease, cancer, depression.
Get Your Boom! Back is honoured to be working with Dr Veerle Van Tricht, a highly respected authority in terms of wellness relating to eye health and avoiding exhaustion.
Cai Berg
Cai Berg is a supplements industry veteran in raw materials and formulation, with 25 years experience. His work has forged strong long-term relationships with key manufacturers in Europe and the US, along with numerous sales and distribution outlets in the U.S. Cai has been working with YTE® for many years and is committed to continuing the production of this powerful ingredient. 
Get Your Boom! Back is honoured to be working with Cai Berg, who may have more knowledge of YTE® than anyone else in the world who is actively involved in enabling access to this rare ingredient.
Our Supply Chain
We work with only the best cGMP supplement manufacturers, registered with the FDA. We liaise with doctors and other health professionals, check the Certificates of all ingredients, test everything independently - and make sure we provide the right formulas and doses every single time.
Meet The Team
All of the Team are first and foremost Customer Happiness Agents - dedicated to you Getting Your Boom! Back.
Meet Cofounder Angela K Wright MBE:
From a farming family, Angela is most interested in functional food, soil and water health.
People say that Angela's Unique Ability is seeing opportunities and creating better futures through asking difficult questions, analysing the past and connecting the best currently available solutions.
Angela carries out a great deal of research and due diligence, including seeking clinical trials with evidence from leading medical professionals, scientists, physicists and philosophers. 
Angela is focused on enabling people to discover high-vibration-living and recognises the importance of functional food along with healthy atmosphere, soil and water. Dedicated to helping people Get Their Boom! Back through continuously researching and making available regenerative formulas of premium dietary supplements.
Mum of five, married to David Wright, Angela has been invited to speak around the world and honoured by HM Queen Elizabeth II at Buckingham Palace with the award of a Member of the Order of the British Empire.
Angela is an author and speaker who is passionate about honesty, commitment and giving back, helping individuals and businesses to flourish so promoting peace and prosperity.
Angela brings a wealth of experience to Get Your Boom! Back with the aim of building the business through providing regenerative formulas with genuine ingredients at the right dose - and always honest pricing.
Managing Director: David Wright
David and Angela Wright MBE
David has a degree in Biology and served on the British Antarctic Survey for three years, in Antarctica.
Dad to five, David has operated many businesses and specialises in logistics, service and fulfilling promises, providing practicalities to take care of customers and suppliers. 
Chief Operations Officer (COO): Sam Hembury
Sam takes care of the IT and technical support for Health Evolution, and ensuring all customer data is safe and secure. Sam lives in Devon in the UK with his three children and much-loved dogs. Sam also enjoys keeping fit with Martial Arts and running.
TECHNICAL SUPPORT & CUSTOMER HAPPINESS AGENT: CHARMINE CODERA
Charmine prefers to be called "Charm" and fully lives up to her beautiful name.
Charm is a reliable and, of course, charming member of our team, eager to assist in administrative, technical and customer concerns.
Charm is a Bachelor of Science graduate in Information Technology. Charms enjoys travelling, outdoor physical activities and sports, especially badminton.
She is enthusiastic and always happy to help.
Contact Charm via the Livechat/message button on this page or via the Contact Page.
SALES SUPPORT & CUSTOMER HAPPINESS AGENT: ROSE MARIE SIEGA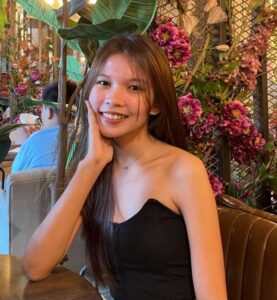 Rose Marie "Sieg" is the newest member of the Health Evolution team, providing valuable support in the company's mission to provide the best natural supplements for anxiety and low mood, deep restful sleep, rejuvenation, more energy, vitality, and supported immunity.

Rose is a reliable team member in charge of taking sales calls who is also very eager to assist in technical and customer concerns, with 2 years of experience in customer service and has received outstanding performance award for 6 consecutive months.

Contact Rose via the Livechat/message button on this page or via the Contact Page.
Further information
Dietary supplements are not medical drugs. Get Your Boom! Back products are designed to help you Get Your Boom! Back so you make the most of your life with more energy, better sleep and strength, more love.
It is not permitted to make health claims for dietary supplements in many parts of the world, even though all scientific evidence proves that our health is dependent upon what we ingest. This reminds us of Einstein's famous quotation, "Coincidence is God's way of remaining anonymous". 
We recommend you carry out your own research. Sources of reliable information include:
We are committed to providing regenerative formulas with genuine ingredients at the right dose - and always honest pricing. 
Here's to Getting Your Boom! Back - click here: https://www.getyourboomback.com/collections/shop 

Download your Get Your Boom! Back Product Guide here:
DynamEP™ YTE® Live Active Ingredient
Back in 2014, after carrying out months of due diligence, Angela flew around the world to meet the researchers and patent-holders of YTE® and to undertake more research.
YTE® is the key live active ingredient of the GYBB 23 Aminos Formulas.
Meeting in Norway, Angela uncovered a great deal of information about this supplement ingredient. Subsequently we work closely with the licence holders.
Get Your Boom! Back formulas are the only nutritional supplements in the world formulated with genuine DynamEP™ YTE® at the right dose in our proprietary formulas.
We have adopted the additional trademark "DynamEP™" standing for "Dynamic Egg Protein" to demonstrate our YTE® Young Tissue Extract is the only authentic live dynamic fertilised incubated egg protein.
Unlike ordinary egg proteins which are not live due to not being incubated in line with the patented process of YTE®.
This is why our active ingredient is now typically referred to as DynamEP™ YTE® Dynamic Egg Protein Young Tissue Extract.
Founding Principals
Get Your Boom! Back's founding principles are:
Premium pure and natural products which really work

Genuine ingredients at the right dose

Exceptional, caring service

Innovation based on diligence

Our customers' wellbeing central to ideas, products  and projects

The simplest and most honest affiliate program in the industry so we can reward our partners and affiliates with the ability to earn income equal to their individual efforts

Protecting our affiliates with always the best deals for customers

Providing good wholesale arrangements for health professionals and retailers to sell direct to patients, clients, and customers
Get Your Boom! Back was originally cofounded with UK partners, who are no longer with the company.
Important: Statements on this website, our social media, written and verbal communications have not been evaluated by the Food and Drug Administration. Products are not intended to diagnose, treat, cure or prevent any disease. If you are pregnant, nursing, taking medication or have a medical condition, consult your health professional before using our products.
The information provided on this site is for informational purposes only and is not intended as a substitute for advice from your Doctor or other health care professional or any information contained on or in any product label or packaging.
You should not use the information on this site for diagnosis or treatment of any health problem or for prescription of any medication or other treatment. Always consult with a healthcare professional before starting any diet, exercise or supplementation program, before taking any medication, or if you have or suspect you might have a health problem. You should not stop taking any medication without first consulting your health professional.
Results featured on this web site are atypical. As individuals differ, so will results. Get Your Boom! Back distributes products made with natural, genuine ingredients at the right dose. Always check with your doctor for risks associated with dietary supplements and your specific health conditions and/or allergies.
© 2020+ Get Your Boom! Back
Locations: Nevada 89135 USA • Queensland 4566 Australia • Devon
EX5 5PS

UK
Call us: USA & International 1 (225) 442-9766 • Australia 1300 261 639
• Singapore 9234 3940 • UK 01392 690 244